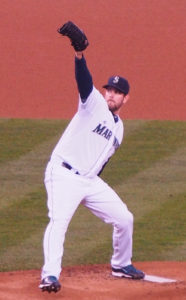 James Paxton of Delta, British Columbia won the 2019 Tip O'Neill Award on Tuesday. The award is presented annually to the Canadian baseball player who has excelled the most in individual achievement and team contribution. It generally goes to the best Canadian in Major League Baseball.
Paxton achieved the recognition this past year while with the Seattle Mariners. However, he is now a member of the New York Yankees. While with the Mariners, Paxton had a record of 11 wins, six losses, an earned run average of 3.76, two complete games, one shutout, 208 strikeouts, 134 hits allowed, 67 earned runs allowed, 42 walks allowed, and an excellent WHIP (walks and hits per innings pitched) of 1.10.
Paxton becomes the ninth pitcher to win the award and first pitcher since John Axford of Simcoe, Ontario won while with the Milwaukee Brewers in 2011. Other Canadian pitchers to win the Tip O'Neill Award are Dave Shipanoff of Edmonton, Alberta, who won the award with the Philadelphia Phillies in 1985, Steve Wilson of Victoria, British Columbia who won with the award with the Chicago Cubs in 1989, Jason Dickson of London, Ontario who won the award with the California Angels in 1996, Jeff Zimmerman of Kelowna, British Columbia, who won the award with the Texas Rangers in 1999, Ryan Dempster of Gibsons, British Columbia, who won the award with the Florida Marlins in 2000, and Eric Gagne of Montreal, Quebec, who won the award with the Los Angeles Dodgers in 2002 and 2003.
The other Canadian pitcher to win the Tip O'Neill Award was Daniel Brabant of Longueuil, Quebec in 1991. Brabant was the most valuable player of the 1991 World Junior Baseball Championship in Brandon, Manitoba. It is the only time Canada has ever won the tournament.