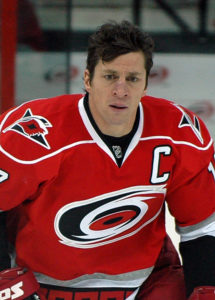 Carolina Hurricanes Head Coach Rod Brind'Amour of Ottawa, Ontario won the 2021 Jack Adams Award on Thursday, according to Adam Kimelman of nhl.com. It was a memorable day for Brind'Amour, as he also signed a three-year contract with the Hurricanes to remain as their head coach.
Brind'Amour guided the Hurricanes to a Central Division regular season title. Carolina ended the regular season with a record of 36 wins, 12 regulation losses, and eight losses in extra time for 80 points. Carolina had one more point in the regular season than the second-place Florida Panthers.
Brind'Amour has now been the head coach of the Hurricanes over the last three seasons, after being an assistant coach for Carolina for seven seasons. He has a career regular season record of 120 wins, 66 regulation losses and 20 losses in extra time. Brind'Amour also becomes the first head coach in the history of the Hurricanes/Hartford Whalers franchise to win the Jack Adams Award.
As a player, Brind'Amour spent 10 seasons with the Hurricanes. In 2006, he captained the Hurricanes to their only Stanley Cup title in franchise history. In seven games in the 2006 Stanley Cup Final, the Hurricanes beat the Edmonton Oilers.
In addition to playing with the Hurricanes, Brind'Amour played three seasons with the St. Louis Blues and nine seasons with the Philadelphia Flyers. In 1484 games, he had 452 goals and 732 assists for 1184 points.