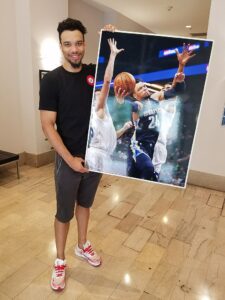 According to Adrian Wojnarowski of ESPN on Saturday, the Houston Rockets have signed small forward Dillon Brooks of Mississauga, Ontario to a four-year contract worth $80 million. The Rockets will be the second team Brooks has played for as he spent the last six seasons with the Memphis Grizzlies.
In 2022-23, Brooks averaged 14.3 points per game, 3.3 rebounds per game, and 2.6 assists per game. He had a field goal percentage of .396, free throw percentage of .779 and a three-point percentage of .326.
Brooks was initially drafted by the Rockets in the second round, 45th overall, in the 2017 NBA Draft. However, he never played for Houston as he was traded from the Rockets to the Grizzlies for a second round pick in the 2018 NBA Draft on June 22, 2017. The Rockets eventually drafted De'Anthony Melton. Like Brooks, Melton never played for Houston, as he was traded to the Phoenix Suns on August 31, 2018.
One area of concern for Brooks throughout his career has been his discipline. He led the NBA in personal fouls in a season twice in his career. Brooks had 278 personal fouls in 2019-20, and 237 personal fouls in 2020-21.
Brooks is one of two players the Rockets signed with a Canadian connection on the weekend. On Friday, the Rockets signed former Toronto Raptors guard Fred VanVleet to a three-year deal worth $130 million.