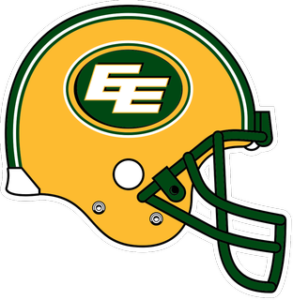 Edmonton Eskimos quarterback Mike Reilly is now in the Eskimos franchise record books. The native of Kennewick, Washington tied an Eskimos record on Friday for the most consecutive games with a touchdown pass.
Reilly now has thrown a touchdown in 16 straight games, which ties him with Eskimo quarterback legends Warren Moon and Tracy Ham in the record books. Reilly made history on a 36 yard touchdown pass to Bryant Mitchell with 52 seconds left in the first quarter in a 33-28 Eskimos win over the Hamilton Tiger-Cats. He also threw an 18 yard touchdown pass to Vidal Hazelton in the fourth quarter. Reilly ended up with completing 29 passes in 38 attempts for 317 yards.
With the win, the Eskimos improved to 6-0. The fact that they are unbeaten is quite simply miraculous. The list of injuries the Eskimos have is longer than the list most people take to a grocery store, however the Eskimos continue to find ways to win football games and are 6-0 despite winning five of those games by five points or less.
Next week will be a challenge for Edmonton as they face the defending Grey Cup champion, Ottawa Redblacks. However it should be noted that the Eskimos have already beaten the Redblacks already this year (23-21 at Commonwealth Stadium on July 14) and Ottawa's pass defense looked shaky in a 33-30 loss to the Winnipeg Blue Bombers on Friday.