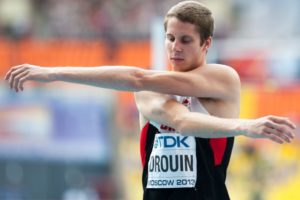 Canadian Olympic gold medalist Derek Drouin of Sarnia, Ontario has had to pull out of the 2017 International Association of Athletics Federation World Championship in London, England because of an Achilles tendon injury. Drouin won the gold medal at the 2015 IAAF World Championship in Beijing and the 2016 Olympic Games in Rio de Janeiro in the men's high jump, but had to pull out of London after suffering the injury at the Diamond League event in Oslo on June 15 according to Lori Ewing of the Canadian Press. 
With the absence of Drouin, the Canadian focus will be on 2004 World Junior champion Michael Mason of New Westminster, British Columbia. Mason has a personal best jump of 2.33 metres, which he has accomplished twice–at the 2015 International High Jump Meet in Eberstadt, Germany and again at the 2015 Edmonton Track Classic.
The favourite in the men's high jump now is Mutaz Essa Barshim of Qatar. Barshim has a seasonal best of 2.38 metres which was accomplished in Oslo (ironically the same event that Drouin got injured). He won four of the five Diamond League events in 2017 (in Doha, Shanghai, Oslo and Paris). The only event he did not participate was in Rabat, Morocco on July 17 and that Diamond League event was won by Andriy Protsenko of the Ukraine who only jumped 2.29 metres to win gold.