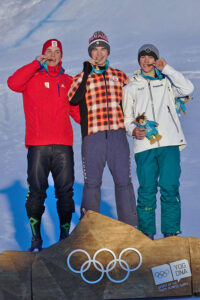 Reece Howden of Cultus Lake, British Columbia and Canadian Olympic gold medalist Marielle Thompson of North Vancouver, British Columbia each won World Cup ski cross medals in Val Thorens, France on Sunday. For Howden, who won the silver medal, it was his second World Cup medal of his career. For Thompson, who won the bronze medal, it was her 43rd World Cup career medal.
Howden previously won the gold medal earlier this calendar year in Nakiska on January 18. In Val Thorens on Sunday, he placed behind Jonathan Midol of France, who won the gold medal, and ahead of Florian Wilmsmann of Germany, who won the bronze medal.
Howden is now in second place in the World Cup standings. At 125 points, he is only behind David Mobaerg of Sweden, who leads with 164 points.
Thompson meanwhile recorded her second World Cup medal of the season. She previously won a silver medal in Arosa, Switzerland this past Wednesday. In Val Thorens, Thompson placed behind Fanny Smith of Switzerland, who won the gold medal, and Jade Grillet Aubert of France, who won the silver.
In the women's World Cup ski cross standings, Thompson is in third place with 146 points. Smith leads with 280 points, and Alexandra Edebo of Sweden is in second with 168 points.
Thompson's Olympic gold medal came at the 2014 Olympic Winter Games in Sochi. The medals for Thompson and Howden will give them confidence as they prepare for the 2022 Olympic Winter Games in Beijing.