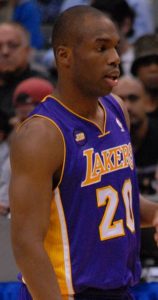 The Toronto Raptors of the National Basketball Association has signed Jordie Meeks for the remainder of the 2018-19 season.He originally had signed a 10 day contract with the Raptors on February 20.
Meeks played three games with the Raptors during that initial 10 day time period and averaged 5.7 points per game. He had a season high 10 points in a 113-98 loss to the Orlando Magic on February 24.
The Raptors become Meeks's seventh team. He has also played for the Philadelphia 76ers, Los Angeles Lakers, Washington Wizards, Detroit Pistons, Milwaukee Bucks and Magic. The shooting guard's best season came with the Lakers in 2013-14 when he averaged 15.7 points per game.
The Raptors meanwhile are getting ready for the NBA playoffs for the sixth year in a row. They are currently in second place in the Eastern Conference with a record of 52 wins and 23 losses and are four games back of the Milwaukee Bucks.
In the last six years, the Raptors have beaten the Indiana Pacers, Washington Wizards, Milwaukee Bucks and the Miami Heat in the postseason. Their most difficult challenge over the last three years has been getting by the Cleveland Cavaliers. Now with LeBron James as a member of the Los Angeles Lakers, the Cavaliers are no where near the team they once were and have already been eliminated from the postseason. As for the Lakers, they have also been eliminated from the playoffs.