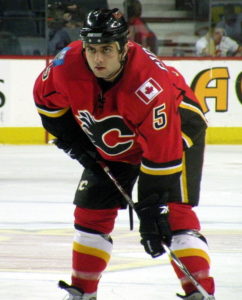 With about 10 days left in the 2018-19 National Hockey League regular season, there will be a minimum of two Canadian-based teams in the 2019 Stanley Cup Playoffs. The Calgary Flames became the first team in the Western Conference to qualify for a playoff spot when the New York Islanders beat the Minnesota Wild 3-2 in overtime on March 17. Then the Winnipeg Jets pushed their ticket to the playoffs with a 5-0 win over the Nashville Predators on March 23.
In all six NHL teams have qualified for the playoffs to date. The four American-based teams are the Tampa Bay Lightning, Boston Bruins, Nashville Predators and San Jose Sharks.
The Flames currently have a record of 47 wins, 22 regulation losses and seven losses in extra time for 101 points. They lead the ice cold Sharks by six points. Despite making the playoffs, the Sharks have lost six straight games. It has been a great season for Flames left winger Johnny Gaudreau. He is the Flames leader in goals (35), assists (57) and points (92). Meanwhile, Flames defenseman Mark Giordano of Toronto, Ontario is the favourite to win the Norris Trophy. This season Giordano has 16 goals and 56 assists for 72 points and is a remarkable +35.
The Jets meanwhile are in a tight race for first place in the Central Division. With 94 points, they lead the Nashville Predators by two points and the St. Louis Blues by four points. It has been a great year for Blake Wheeler, who leads the Jets with 68 assists and 88 points. Mark Scheifele of Kitchener, Ontario leads the Jets with 35 goals.