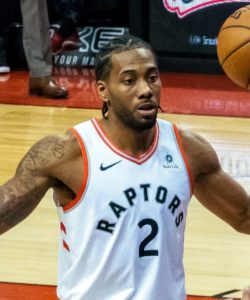 The Toronto Raptors are only two wins away from winning the 2019 NBA Finals. On Wednesday, Kawhi Leonard led the Raptors with 30 points en route to a 123-109 win over the Golden State Warriors in game three of the final series. With the win, the Raptors lead the best out of seven series two games to one.
Leonard was one of six Raptors to reach double digits in points at Oracle Arena in Oakland on Wednesday. The others were Kyle Lowry (23 points), Danny Green and Pascal Siakam (18 points each), Marc Gasol (17 points) and Fred VanVleet (11 points). Siakam led the Raptors with nine rebounds and Lowry led the Raptors with nine assists.
The Warriors meanwhile seemed to have a one man offensive show. Stephen Curry had 47 points, but the Raptors were able to contain almost everybody else. Draymond Green had 17 points and Andre Iguodala had 11 points, as they were the only other Warriors who reached double digits in scoring.
The series continues in Oakland on Friday with game four. It will then shift to Toronto for game five on Monday. There is no doubt that the Raptors have momentum at the moment as the Warriors are definitely reeling with injuries. Klay Thompson was out of game three with a hamstring strain and Kevin Durant was also injured with a strained calf.