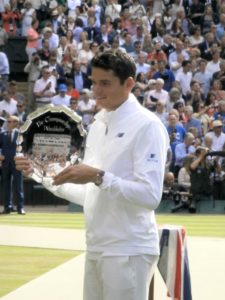 Milos Raonic of Thornhill, Ontario is ranked sixth at the 2017 Wimbledon Championships. Despite not winning a tournament on the ATP Tour during the calendar year of 2017, a major reason why Raonic is ranked so high is because he reached the 2016 Wimbledon Final before losing in straight sets to world number one and Olympic champion Andy Murray of Great Britain, 6-4, 7-6, 7-6.
In reaching the Wimbledon Final, Raonic earned 1200 points on the ATP Tour. That means Raonic would lose points, and possibly a few spots in the world rankings if he did not have an impressive showing and go deep into the 2017 Wimbledon tournament.
That is why Raonic's inspirational five set victory over Italian Open champion Alexander Zverev of Germany was not just important, it could be defined as his biggest win of his season, and possibly his biggest win since beating Roger Federer in five sets in the semi-finals of Wimbledon 2016. The victory also helped legitimize Raonic as a top eight player after he was the only player amongst the top eight seeds not to reach the French Open quarterfinals last month.
By beating Zverev 4-6, 7-6, 4-6, 7-5, 6-1 on Monday in the round of 16, Raonic reached the quarterfinals at Wimbledon for the third time in four years. So who will his opponent be? Federer again. However if Raonic were to beat Federer this year, it would be considered a much bigger upset. In last year's semis, Federer injured his knee and did not return until January of 2017 when he participated in the Hopman Cup. Federer was also not in the same form a year ago as he is now.
Since Federer lost to Raonic, he has been on an incredible run. In 2017, Federer won the Australian Open, the Masters 1000 series events in Indian Wells, California and Miami and his ninth Halle Open in Germany, which is considered one of the two top Wimbledon tuneup events on grass. Federer is also well rested as he missed the French Open so he could completely prepare to win his eighth Wimbledon title and 19th major overall. Federer is not just the favourite to beat Raonic. He is the favourite to win the whole thing.
A victory over the red-hot Federer in 2017 would definitely be bigger for Raonic than a win over one of the game's biggest stars in 2016. Possibly the biggest win of his career.