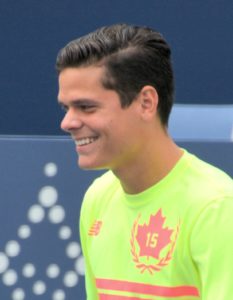 Canadian tennis star Milos Raonic of Thornhill, Ontario had his best tournament result of the 2018 ATP season as he advanced to the final of the Mercedes Cup in Stuttgart, Germany on Sunday. Raonic, who was seeded seventh, won four matches before losing to the great Roger Federer of Switzerland 6-4, 7-6 in the final.
Raonic beat Mirza Basic of Bosnia Herzegovina 7-6, 6-2 in the first round and then Martin Fucsovics of Hungary 6-2, 6-4. Even though Fucsovics is ranked only 46th in the world, he has won one tournament this season. He defeated Peter Gojowczyk of Germany 6-2, 6-2 in the final of the Geneva Open.
In terms of the seeding, Raonic upset Tomas Berdych of the Czech Republic 7-6, 7-6 in the quarterfinals and Lucas Pouille of France 6-4, 7-6 in the semifinals. Berdych was seeded third and Pouille was seeded second.
However the fact that Raonic got to the finals should not have been considered too much of an upset. There is no doubt that grass is his favourite surface and even though he was coming back from injury, was well rested as all of his opponents played the French Open. Raonic is also 6-3 in his career against Berdych and 3-0 against Pouille.
Raonic may be unseeded this week at the Fever-Tree Championship at the Queen's Club in London, but has the fortune of playing a qualifier in the first round. His opponent will be Yuki Bhambri of India.