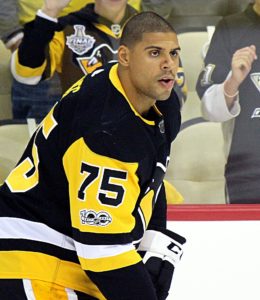 The New York Rangers traded right winger Ryan Reaves of Winnipeg, Manitoba to the Minnesota Wild on Wednesday. In return, the Rangers receive a fifth round draft pick in the 2025 National Hockey League Entry Draft according to TSN.
The Wild become the fifth NHL franchise Reaves has played for. He has previously been with the St. Louis Blues for seven seasons from 2010 to 2017, the Pittsburgh Penguins from 2017 to 2018, the Vegas Golden Knights from 2018 to 2021, and the New York Rangers from 2001 to 2022.
In 12 games this season, Reavers has not yet registered a point. He has 12 penalty minutes, three shots on goal, two faceoff wins, four blocked shots, 44 hits, and three takeaways.
In 767 NHL regular season games, Reaves has 54 goals and 60 assists for 114 points. He is a -33 with 992 penalty minutes, three power-play points, nine game-winning goals, 512 shots on goal, 100 faceoff wins, 195 blocked shots, 2645 hits, 158 takeaways, and 87 giveaways.
Reaves's three power-play points were three power-play goals that came with the Golden Knights in 2018-19. He scored from Colin Miller of Sault. Ste. Marie, Ontario, and Erik Haula in a 4-3 Golden Knights win over the Ottawa Senators on October 28, 2018. (Ironically, the Golden Knights and Senators played on Wednesday with the Golden Knights winning 4-1). Reaves also scored from Cody Eakin of Winnipeg, and Oscar Lindberg in a 5-3 Vegas win over the Washington Capitals on December 4, 2018. In this contest, Reaves had 15 minutes of penalties as he took a game misconduct for interference. Then on December 23, 2018, Reaves had his third career power-play point from Brandon Pirri of Toronto, Ontario, and Nate Schmidt, in a 4-3 Golden Knights loss to the Los Angeles Kings.