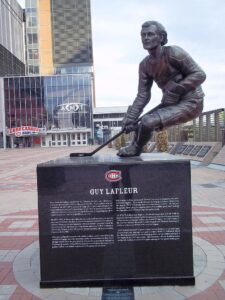 According to TSN on Tuesday, the Quebec Major Junior Hockey League will be retiring the number four jersey of Guy Lafleur starting in the 2021-22 season. Lafleur, who was one of the greatest Montreal Canadiens players of all-time, played two seasons in the QMJHL with the Quebec Remparts from 1969 to 1971.
A native of Thurso, Quebec, Lafleur was even more dominant in the QMJHL than he was in the NHL. In two seasons with the Remparts, he had a remarkable 233 goals and 146 assists for 379 points in only 118 games. In the QMJHL playoffs, Lafleur also had 47 goals and 39 assists for 86 points in 29 games.
The Canadiens did everything they could to get the first overall pick of the 1971 National Hockey League Amateur Draft. When they did, it was a no-brainer in drafting Lafleur. In 1126 NHL regular season games with the Canadiens, New York Rangers, and Quebec Nordiques, Lafleur had 560 goals and 793 assists for 1353 points. In addition to winning five Stanley Cups, Lafleur won the Art Ross Trophy three times, the Hart Trophy twice, and the Conn Smythe Trophy once. In 1976-77, Lafleur set the Canadiens franchise record for most points in a season with 136. He would be inducted into the Hockey Hall of Fame in 1988 and Canada's Sports Hall of Fame in 1996.