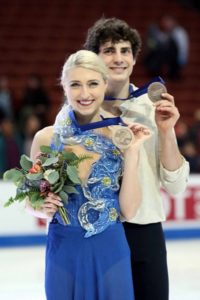 Piper Gilles of Toronto, Ontario and Paul Poirier of Ottawa, Ontario won the silver medal on Saturday at the 2019 Rostelecom Cup in Moscow, Russia. By finishing second, Gilles and Poirier advanced to the 2019 International Skating Union Grand Prix Final in Turin, Italy from December 5-8, 2019.
In Russia on Saturday, Gilles and Poirier posted a score of 207.64 points. Victoria Sinitsina and Nikita Katsalapov of Russia won the gold medal with a score of 212.15 points and Sara Hurtado and Kirill Khaliavin of Spain won the bronze medal with a score of 185.01 points. Gilles and Poirier reached the podium comfortably by 28.94 points. Natalia Kaliszek and Maksym Spodyriev of Poland finished in fourth place with a score of 178.7 points.
Gilles and Poirier are now one of three teams to qualify so far for the Grand Prix Final. The others are Sinitsina and Katsalapov, as well as Madison Hubbell and Zachary Donohue of the United States.
This was the second medal this season for Gilles and Poirier in an ISU Grand Prix figure skating event. On October 26, Gilles and Poirier won the gold medal in Skate Canada at Kelowna, British Columbia. It was also the 10th Grand Prix medal for Gilles and Poirier in their career.
This is the second time Gilles and Poirier qualified for the Grand Prix Final. In 2014 in Barcelona, Spain, Gilles and Poirier finished fifth. The silver medal in Moscow will give Gilles and Poirier confidence as they prepare for the 2022 Olympic Winter Games in Beijing.