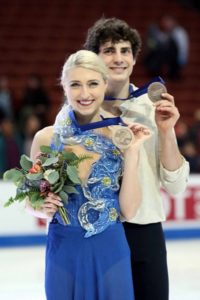 Heading into the 2021 World Figure Skating Championships in Stockholm, there were not high expectations for Team Canada. In a time of transition for the Canadian figure skating program, any top-six result this past week would have been highly-praised. However, on Saturday, Piper Gilles and Paul Poirier of Ottawa, Ontario came through with a bronze medal in ice dancing.
Gilles and Poirier posted a total score of 214.35 points. Victoria Sinitsina and Nikita Katsalapov of Russia won the gold medal with 221.17 points. Madison Hubbell and Zachary Donohue of the United States won the silver medal with 214.71 points. Gilles and Poirier reached the podium by 1.66 points over Madison Chock and Evan Bates of the United States, who finished in fourth place with 212.69 points.
One could argue that Gilles and Poirier deserved a better result than a bronze medal. That is because Hubbell and Donohue did not execute their twizzles in the free dance. However, Hubbell and Donohue won the silver medal because they had a better rhythm dance performance than Gilles and Poirier.
Still getting on to the Olympic podium in ice dance will be tough for Gilles and Poirier however. That is because the gold medal favourites in ice dance are currently Gabriella Papadakis and Guillaume Cizeron of France, who missed the 2021 World Figure Skating Championships because of travel concerns related to coronavirus. Both Papadakis and Cizeron had coronavirus in July.