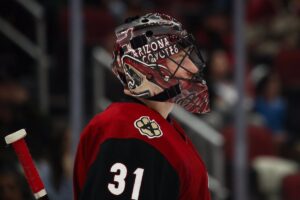 Adin Hill of Comox, British Columbia recorded his second National Hockey League shutout on Saturday, In a 4-0 Arizona Coyotes win over the San Jose Sharks. He made 34 saves, as Arizona remains in contention for a playoff spot in the West Division.
Hill made 17 saves in the first period, nine saves in the second period, and eight saves in the third period. Evander Kane of Vancouver, British Columbia led the Sharks with five shots on goal.
The Coyotes were led offensively by Phil Kessel of Madison, Wisconsin. Kessel notched a hat trick with three straight goals. Clayton Keller also had a three-point game, as he had one goal and two assists.
On the season, Hill has a record of four wins, three regulation losses, and one loss in extra time, with a goals against average of 2.44, and a save percentage of .920. This was Hill's first shutout in two seasons. Hill's previous shutout came in a 3-0 Coyotes win over the Nashville Predators on November 29.
The Coyotes now improve to a record of 16 wins, 14 regulation losses, and five losses in extra time for 37 points. They are in a battle at the moment with the St. Louis Blues for a playoff spot. The Blues are in fourth place in the West with 38 points.