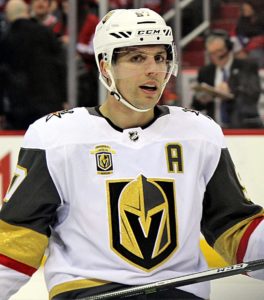 David Perron of Sherbrooke, Quebec is providing a significant amount of offense for the St. Louis Blues in the early going of the 2018-19 National Hockey League regular season. On Thursday night in St. Louis, Perron recorded a hat trick as the Blues defeated the Calgary Flames 5-3. It was the Blues's first win of the season as they improved to 1-1-1.
Perron scored his first of the game at 9:48 of the first period from Brayden Schenn to put the Blues up 2-1 at the time. He then scored two second period power play goals. At 4:05 of the second period, Perron scored the game winner from Schenn and Alexander Steen to put the Blues up 4-1 and then put St. Louis up 5-1 with a goal from Schenn and Jayden Schwartz with 36 seconds left in the second period. Schenn, who is from Saskatoon, Saskatchewan, recorded an assist on all three of Perron's goals.
Perron's shooting percentage to start the season is through the roof. It is at 75% as he only has four shots on goal.
This is Perron's third time with the Blues. He played six seasons with them from 2007-2013 to start his NHL career and then played a full season with the Blues in 2016-17. Perron is coming off a career season with the Vegas Golden Knights. Last season he had 16 goals and 50 assists for 66 points.