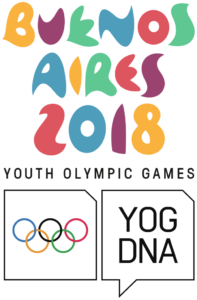 Alexander Milanovich of Toronto, Ontario has won a bronze medal for Canada at the 2018 Youth Olympic Games in Buenos Aires, Argentina. Milanovich earned the medal in the boys' 50 metre breaststroke competition.
Milanovich posted a time of 27.87 seconds. Michael Houlie of South Africa won the gold medal with a time of 27.51 seconds. Jiajun Sun of China posted a silver medal time of 27.85 seconds.
Milanovich earned a medal by 0.33 seconds. Taku Taniguchi of Japan finished in fourth place with a time of 28.2 seconds.
Canada has now won six medals at the 2018 Youth Olympic Games. They have won two silver medals and four bronze medals. Three of the medals have come in swimming. In addition to Milanovich's bronze medal, Madison Broad of Wallaceburg, Ontario won a silver medal in the girls' 200 metre backstroke on Tuesday and Finlay Knox of Okotoks, Alberta won a bronze medal in the boys' 200 metre individual  medley on Monday.
It should be noted that two Canadians have won medals at the 2018 Youth Olympic Games in the mixed teams competitions. At the Youth Olympics, there are certain events where athletes from different nations compete on the same team. Brian Yang of Richmond Hill, Ontario has won the gold medal in mixed teams badminton and Rachel Krapman of Toronto, Ontario won a bronze medal in mixed team judo.