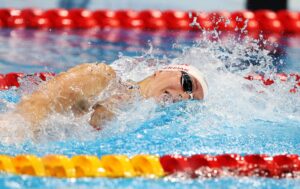 Penny Oleksiak of Toronto, Ontario is now in the Canadian Olympic record books. On Wednesday, Oleksiak won her sixth medal all-time. She is now tied with speed skaters Clara Hughes and Cindy Klassen, both of Winnipeg, for the most medals won by a Canadian Olympian–ever. It should be noted that Hughes won four of her six Olympic medals in speed skating. The other two medals came in cycling.
Oleksiak recorded her sixth medal in winning a bronze in the women's 200 metre freestyle swimming competition. She previously won four medals at the 2016 Olympic Games in Rio de Janeiro, and now has two medals at the 2020 Olympic Games in Tokyo in 2021.
In the women's 200 metre freestyle, Oleksiak got off to a fantastic start over the first 100 metres. She lost some ground between the 100 metre and 150 metre mark, before having a strong finish to capture a medal.
Oleksiak posted a time of 1:54.70. She reached the podium by .31 seconds over Yang Junxuan of China, who had a fourth place time of 1:55.01. Ariarne Titmus of Australia set an Olympic record with a gold medal winning time of 1:53.50. Siobhan Haughey of Hong Kong won the silver medal with a time of 1:53.92. Team Canada now has nine Olympic medals (two gold, three silver and four bronze).