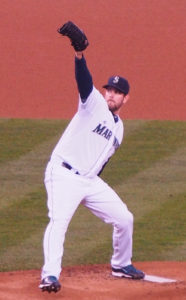 There are only two Canadian starting pitchers in Major League Baseball at the moment, but one is definitely worth talking about. There is no question that Seattle Mariners starting pitcher James Paxton of Ladner, British Columbia is putting together a career year.
On Monday, Paxton pitched very effectively for Seattle in a 4-0 win over the American League East leading Boston Red Sox. In seven innings, Paxton had terrific command. He had 10 strikeouts compared to zero walks and had 71 strikes compared to 32 balls in his 103 pitches. 
Paxton also saw his earned run average drop from 3.05 to 2.84. He has now given up only 12 earned runs in his last 45.6666 innings pitched, and during that time has 55 strikeouts compared to 11 walks.
On the season, Paxton is putting up career numbers. In 17 starts, he has a record of 10 wins and three losses with an earned run average of 2.84 and a WHIP (walks and hits per innings pitched) of 1.11. In 101.333 innings pitched, Paxton has given up 81 hits, 32 earned runs, had 117 strikeouts (ties a career high) and 31 walks. One could also argue Paxton is becoming the Mariners ace, as he has had a better season than superstar starter Livan Hernandez.
The Mariners will need Paxton and Hernandez at their best over the last two months of the season if they hope to get an American League wildcard spot. They are currently only two and a half games back of the Kansas City Royals for the final playoff spot in the American League.