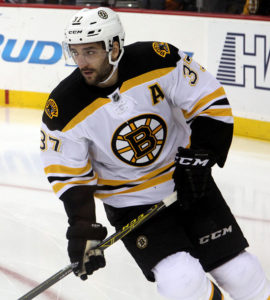 According to Thomas Williams of Yahoo! Sports on Tuesday, two-time Canadian Olympic gold medalist Patrice Bergeron of L'Ancienne-Lorette, Quebec announced his retirement at the age of 38. Bergeron, who won a gold medal for Canada at the 2010 Olympic Winter Games in Vancouver and the 2014 Olympic Winter Games in Sochi, played 19 National Hockey League seasons all with the Boston Bruins. In that time period from 2003 to 2023, he won a record six Selke Trophies (2012, 2014, 2015, 2017, 2022, and 2023), the 2011 Stanley Cup, the 2013 King Clancy Memorial Trophy, the 2021 Mark Messier Leadership Award, and represented the Bruins at the 2015, 2016, and 2022 National Hockey League All-Star Game. Also with the Bruins, Bergeron had been the Bruins captain since 2020.
Bergeron led the NHL with a +36 in 2011-12. In 1294 NHL games, he had 427 goals and 613 assists for 1040 points. Bergeron was a +289 with 494 penalty minutes, 326 power-play points, 48 shorthanded points, 81 game-winning goals and 3974 shots on goal. In 170 NHL playoff games, Bergeron had 50 goals and 78 assists for 128 points. He was a +42 with 96 penalty minutes, 17 power-play goals, three shorthanded goals, 10 game-winning goals and 561 shots on goal.
In addition to his two Olympic gold medals, Bergeron won four other gold medals for Canada in international events. They were the 2004 World Championship, the 2005 World Junior Hockey Championship, the 2012 Spengler Cup and 2016 World Cup.