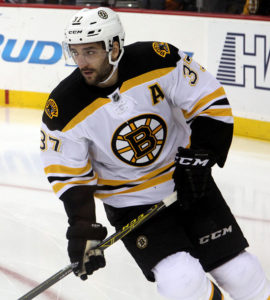 Canadian Olympic gold medalist Patrice Bergeron of Ancienne-Lorette, Quebec recorded his second National Hockey League four-goal game on Thursday. Bergeron achieved the mark in a 5-1 Bruins win over the Detroit Red Wings.
Bergeron's first career four-goal game came on January 6, 2018 in a 7-1 Bruins win over the Carolina Hurricanes. He also has five additional three-goal hat tricks.
Bergeron scored his first three goals on the power play. He opened the scoring at 11:03 of the first period from Brad Marchand of Halifax, Nova Scotia, and Charlie McAvoy. He then scored the game-winning goal at 10:52 of the second period from Marchand to put Boston up 2-0. Bergeron's hat trick marker came at 18:45 of the second period from Marchand and McAvoy. Then, Bergeron scored from Marchand and Mike Reilly at 15:52 of the third period to put the Bruins up 5-1.
It has been a slow start so far for Bergeron. In his first seven games, he only had three assists. On Thursday, Bergeron had more points in one single game than he has had all year. Bergeron's gold medals for Canada came at the 2010 Olympic Winter Games in Vancouver, and the 2014 Olympic Winter Games in Sochi. 
With the win, the Bruins improved to a record of five wins and three losses for 10 points. They are in fifth place in the Atlantic Division, and two points back of the Philadelphia Flyers for a playoff spot in the Eastern Conference.