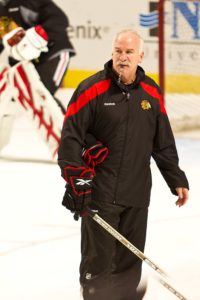 The Florida Panthers of the National Hockey League have named Joel Quenneville of Windsor, Ontario as their new head coach. Quenneville replaces Bob Boughner of Windsor, Ontario, who was relieved of his duties on Sunday.
The Panthers become the fourth NHL team Quenneville has coached. He was also in charge of the St. Louis Blues from 1996-2004, the Colorado Avalanche from 2005-2008 and the Chicago Blackhawks from 2008-2018. While with the Blackhawks, Quenneville won the 2010, 2013 and 2015 Stanley Cup. Also while with the Blues in 2000, Quenneville won the Jack Adams Award as the NHL's top coach.
As a player, Quenneville played 13 seasons with the Toronto Maple Leafs, Colorado Rockies, New Jersey Devils, Hartford Whalers and Washington Capitals. A defenseman, he was a career high +23 with the Whalers in 1985-86 and had a career high 34 points with the Rockies in 1980-81.
It should be noted that current Panthers general manager Dale Tallon of Noranda, Quebec was the general manager who hired Quenneville in Chicago. Tallon then joined the Panthers as their general manager in 2010, one month before the Blackhawks won the Stanley Cup.
The Panthers meanwhile have missed the playoffs the last three seasons. This past year the Panthers had a winning record of 36 wins, 32 regulation losses and 14 losses in extra time for 86 points, but were 12 points back of the Columbus Blue Jackets for a playoff spot.