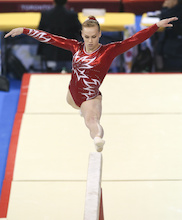 Ellie Black of Halifax, Nova Scotia won the silver medal in a World Cup artistic gymnastics all-around event in Tokyo, Japan on Sunday. Black posted a second place score of 55.032 points, for her 11th career World Cup medal.
Black placed behind Morgan Hurd of the United States. Hurd won the gold medal with an overall score of 55.099 points. Asuka Teramoto of Japan won the bronze medal with a score of 54.799 points. Black reached the podium by 3.066 points over Aiko Sugihara of Japan, who finished in fourth place with a score of 51.966 points.
Black continues to perform extremely well on the balance beam. She posted the highest score in the competition at 13.733 points. She also had scores of 14.5 points on the vault, 13.533 points on the uneven bars and 13.266 points on the floor. The silver medal is significant for Black because Japan is the host country for the 2020 Olympic Games in Tokyo.
This is the third time that a Canadian woman has won a World Cup gymnastics medal this season, and the second medal for Black. On March 2, Black tied for third place with Mai Murakami of Japan at a World Cup in Greensboro, North Carolina. The United States won gold and silver as Leanne Wong and Grace McCallum win gold and silver respectively. Then on March 17, Ana Padurariu of Bracebridge, Ontario won the silver medal at a World Cup women's all-around gymnastics event in Stuttgart, Germany.