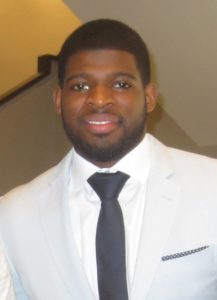 According to the Canadian Press on Wednesday, New Jersey Devils defenseman P.K. Subban of Toronto, Ontario has decided to donate $50,000 to a GoFundMe account which is raising money for the daughter of the late George Floyd. Last week, Floyd, an African-American man was killed by Minneapolis police officer Derek Chauvin when Chauvin knelt on Floyd's neck during an arrest.
Chauvin was initially charged with third-degree murder and manslaughter. According to AM800 News, those charges have since been upgraded to second-degree murder.
There have been significant protests throughout North America over the past week. The protests in Canada have occurred in Toronto, Ontario; Montreal, Quebec; Halifax, Nova Scotia; Calgary. Alberta; Regina, Saskatchewan; and Vancouver, British Columbia.
B.C. Health Minister Dr. Bonnie Henry is asking the 5,000 people who attended the protest near the Vancouver Art Gallery, that they need to monitor their health. All people who are feeling any symptoms whatsoever must self-isolate and be tested for coronavirus.
Subban's $50,000 donation has been matched by the National Hockey League. Subban currently plays for a Devils squad that will be one of the seven teams that will not be back when the NHL resumes its 2019-20 season. In 68 regular season games for the Devils, Subban had seven goals and 11 assists for 18 points. He was a -21 with 79 penalty minutes, six power play points, three game winning goals, 151 shots on goal, 90 blocked shots, 88 hits, 19 takeaways, and 65 giveaways.