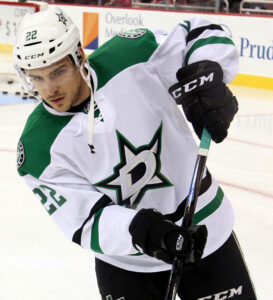 The Edmonton Oilers have signed center Colton Sceviour of Red Deer, Alberta to a one-year deal worth $750,000 according to TSN on Wednesday. The Oilers become Sceviour's fourth National Hockey League team. He previously played five seasons with the Dallas Stars, four seasons with the Florida Panthers and last season with the Pittsburgh Penguins.
Last season in Pittsburgh, Sceviour had five goals and five assists for 10 points in 46 games. He had two penalty minutes, 53 shots on goal, five faceoff wins, 28 blocked shots, 64 hits, nine takeaways and five giveaways.
Twice last season Sceviour had a multi-point game with the Penguins. He scored twice in a 5-2 Pittsburgh win over the New Jersey Devils on April 11, and then had two assists in a 5-4 Pittsburgh win over the Washington Capitals on April 29.
Sceviour's best season to date came in 2014-15 with the Stars. That year he had career highs in assists (17), points (26), and power-play points (four).
In his career, Sceviour has 64 goals and 87 assists for 151 points in 501 games. He is a -8 with 127 penalty minutes, 13 power-play points, eight shorthanded points, eight game-winning goals, 905 shots on goal, 272 faceoff wins, 403 blocked shots, 606 hits, 186 takeaways, and 181 giveaways.
On Wednesday, Sceviour played his first game with the Oilers in a 3-2 shootout win over the Vancouver Canucks. In the contest, he had a second period fight with Canucks defenseman Tyler Myers.