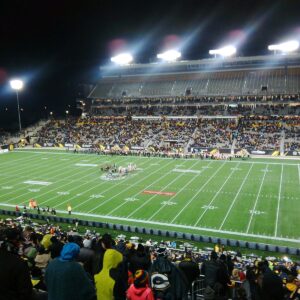 Hamilton, Ontario will be the host of the 2023 Grey Cup according to the Canadian Press on Thursday. There is hope that the game will be played in front of a capacity crowd at Tim Hortons Field.
The 2021 Grey Cup will also be played in Hamilton in front of a capacity crowd of 24,000 and only those vaccinated for coronavirus will be allowed into the stadium. In previous Grey Cups, there have been plans to bring in additional, temporary seating. That will not be the case in 2021.
Also this year there will be no concert series or large-scale fan events as many Canadians continue to refuse to be vaccinated. The 2022 Grey Cup will be in Regina.
The Winnipeg Blue Bombers currently have the best record in the Canadian Football League at the moment at eight wins and one loss. They were the winners of the 2019 Grey Cup. That was the last Grey Cup played at McMahon Stadium in Calgary, before the 2020 Grey Cup was cancelled because of coronavirus. The 2020 Grey Cup was to played at Regina's Mosaic Stadium.
The only team to have beaten the Blue Bombers this year have been the Toronto Argonauts. Toronto came through with a 30-23 win on August 21. Toronto currently leads the East at six wins and three losses.