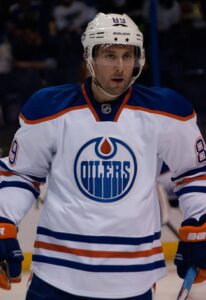 According to oilersnation.com on Wednesday, the Edmonton Oilers have decided to bring back centre Sam Gagner of London, Ontario. Gagner was previously with the Oilers from 2007 to 2014, and again from 2018 to 2020. He also played for the Arizona Coyotes (2014-15), the Philadelphia Flyers (2015-16), the Columbus Blue Jackets (2016-17), the Vancouver Canucks (2017 to 2019), the Detroit Red Wings (2019 to 2022), and the Winnipeg Jets (2022 to 2023).
Last season with the Jets, Gagner had eight goals and six assists for 14 points in 48 games. He was a -4 with 13 penalty minutes, three power-play points, two game-winning goals, 78 shots on goal, 14 faceoff wins, 14 blocked shots, 16 hits, 12 takeaways, and 10 giveaways.
Gagner's game-winning goals last season for Winnipeg came in a 4-1 Jets win over the New York Rangers on October 14, 2022, and in a 3-2 Jets win over the Calgary Flames on January 3, 2023. His game-winning goal against the Rangers put the Jets up 2-1 at the time and came from Saku Maenalanen and David Gustafsson at 15:35 of the third period. Gagner's game-winning goal against the Flames put the Jets up 3-2 at the time and came from defensemen Ville Heinola and Dylan Samberg with five minutes and 40 seconds left in the third period.
On Thursday, Gagner scored twice for Edmonton in a 4-3 loss to Dallas. The Oilers have got off to a disastrous start and are already seven points back of the Anaheim Ducks for a playoff spot.