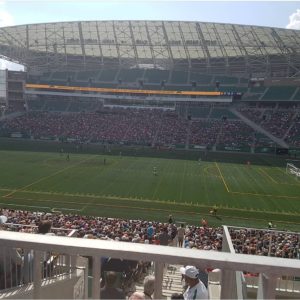 Mosaic Stadium in Regina, Saskatchewan (host stadium of the Saskatchewan Roughriders of the Canadian Football League) will host the 2019 National Hockey League Winter Classic between the Calgary Flames and Winnipeg Jets on October 26. The game is very special because it will be played outdoors, and for the first Heritage Classic ever the game will be played in a Canadian city that does not have a National Hockey League team.
This will be the fifth NHL Heritage Classic. On November 22, 2003, the Montreal Canadiens beat the Edmonton Oilers 4-3 at Commonwealth Stadium in Edmonton, Alberta. On February 20, 2011, the Calgary Flames shutout the Canadiens 4-0 at McMahon Stadium in Calgary, Alberta. On March 2, 2014, the Ottawa Senators beat the Vancouver Canucks 4-2 in the only NHL Heritage Classic ever played indoors as the game was played at B.C. Place in Vancouver, British Columbia. Then on October 23, 2016, the Oilers blanked the Winnipeg Jets 3-0 at the Investors Group Field in Winnipeg, Manitoba.
The Flames and Jets are two of the hottest teams in the NHL at the moment. The Flames lead the Pacific Division with 54 points and the Jets lead the Central Division with 52 points. Johnny Gaudreau has been on an amazing tear right now for the Flames. He has six goals and five assists for 11 points in his last four games. His remarkable streak started with a hat trick in a 4-1 Flames win over the Jets on December 27.
Speaking of hat tricks, Vancouver Canucks rookie sensation Elias Pettersson recorded his first National Hockey League career hat trick and first career overtime winner on Wednesday as the Canucks beat the Senators 4-3. Pettersson is the clear favourite to win the Calder Trophy. He currently has 19 goals and 20 assists for 39 points.
Finally, it was a tough week for Canadian hockey this past week. On Monday, Canada lost to KalPa Kuopio of Finland 2-1 in the final of the Spengler Cup in Davos, Switzerland. The game went to the eighth round of the shootout. Then on Wednesday, Canada lost 2-1 to Finland again in overtime in the quarterfinals of the 2019 World Junior Hockey Championships in Vancouver, British Columbia.