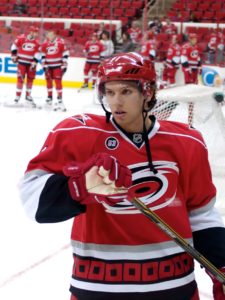 Team Canada is in the final of the 2018 Spengler Cup in Davos, Switzerland on Monday. In the semifinal on Sunday, Canada defeated Germany's Nuremberg Ice Tigers 4-2. It was Canada's second straight win over the Ice Tigers as they beat them 6-2 on Friday to finish pool play.
In the semifinal, it was a phenomenal first period for Zach Boychuk of Airdie, Alberta. Boychuk notched two goals and one assist to give Canada a commanding 3-0 lead. Boychuk's second goal of the game, which came at 12:45 of the first period, was the game winning goal. It should be noted that Boychuk was also having great chemistry with Cory Emmerton of St. Thomas, Ontario, who notched one goal and one assist. Meanwhile, a third Canadian player had a multi-point game as Maxim Noreau had two assists. Canada's other goal scorer was Chris DiDomenico of Woodbridge, Ontario.
Canada's opponent in Monday's championship final will be Finland's KalPa Kupio. On Sunday, KalPa Kupio beat the host team, HC Davos 2-1 in the other semifinal. Ironically, that was the same score Team Canada beat HC Davos in the second game of the tournament on Boxing Day. Both Team Canada and KalPa Kupio are undefeated in the tournament to date as they both have a record of three wins and zero losses.