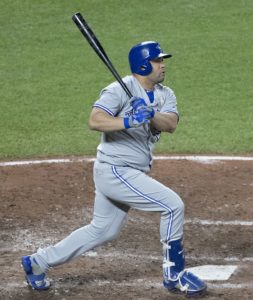 Kendrys Morales of the Toronto Blue Jays  had a remarkable streak this past week. The Blue Jays designated hitter set a franchise record on Sunday when he hit a home run in his seventh consecutive game in an 8-3 loss to the Philadelphia Phillies.
Morales broke the Blue Jays record previously set by Jose Cruz. Jr., who had a home run in six straight games during the 2001 Major League Baseball season. Unfortunately for Morales, he was unable to tie the Major League Baseball record of eight consecutive games set by Dale Long of the Pittsburgh Pirates (1956), Don Mattingly of the New York Yankees (1987) and Ken Griffey Jr. of the Seattle Mariners (1993). That is because on Monday, the Blue Jays lost 7-0 to the Baltimore Orioles.
The streak started on August 19 in a 10-2 loss to the New York Yankees. Morales then hit six home runs in a five game winning streak for the Blue Jays from August 20-25. Also during the seven game home run streak, Morales scored nine runs, had 13 hits, 13 runs batted in, and batted .464.
Morales was also the American League player of the week from August 20-26, and saw his season batting average increase to .264. Unfortunately for the Blue Jays, Morales's home runs came at a time when Toronto is out of contention in the American League East. They are currently in fourth place in the division and 29.5 games back of the first place Boston Red Sox.