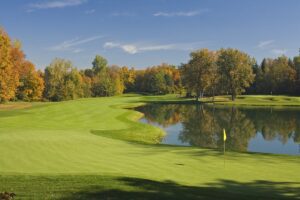 For the second time Montreal, Quebec will host the Presidents Cup. According to John Chidley-Hill of the Canadian Press, the Royal Montreal Golf Club was awarded the prestigious international golf event on Monday for 2024. The Presidents Cup is a team competition between the best players from the United States versus the best players from the rest of the world outside Europe.
The previous Presidents Cup in Canada took place at the Royal Montreal Golf Club in 2007. The United States defeated the International Team 19.5 to 14.5. The United States were led by 2001 PGA Championship winner David Toms of Monroe, Louisiana, and 2001 Canadian Open champion Scott Verplank of Dallas, Texas. Toms had a record of four wins and a half (also known as a tie), and Verplank had a perfect record of four wins and zero losses.
The international team was represented Canada's Mike Weir of Sarnia, Ontario, the 2003 Masters Champion.  Unfortunately by the time he had beaten American golf legend Tiger Woods on the final day of the tournament, the United States had already won the title.
Only once before has the International Team won the Presidents Cup. That was back in 1998 at the Royal Melbourne Golf Club in Australia as the International Team won 20.5 to 11.5. The United States have won 11 times, while the 2003 Presidents Cup in George, South Africa was tied at 17. The next Presidents Cup will be in Charlotte, North Carolina in 2022.