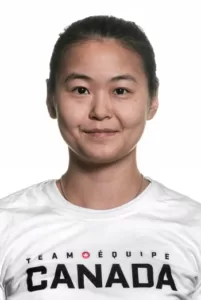 One of the most untold stories from Team Canada at the 2020 Olympic Games in 2021 is the fact that Mo Zhang of Vancouver, British Columbia is in the fourth round of the women's table tennis tournament. The 21st seed in the tournament, who was initially born in China, will have a tough fourth round match however, as she is up against the number one seed, Meng Chen of China, the 2019 World Championship silver medalist.
So far, Zhang has come away with two very impressive wins. In the second round on Saturday, she defeated Yana Noskova of the Russian Olympic Committee, 7-11, 9-11, 14-12, 12-10, 11-6, 3-11, 11-8. Zhang showed remarkable resiliency in this match as she came back from a two sets to love deficit, and won the seventh set even though she only won three total points in the sixth set.
Then in the third round on Sunday, Zhang once again was victorious in a match that went the distance. This time she upset the 11th seed, Petrissa Solja of Germany, 11-7, 11-5, 9-11, 11-6, 6-11, 8-11, 11-3.
One thing to keep in mind in Zhang's fourth round match against Chen is the fact Zhang has had to play 14 sets over the last two days. Chen has only had to play four sets, as she got a bye to the third round.