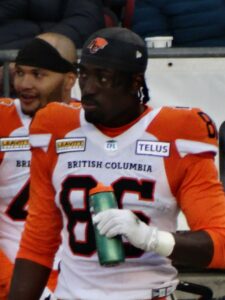 Week five is now in the books in the Canadian Football League, and two Canadian wide receivers had touchdown catches for winning teams. They were Saskatchewan Roughriders wide receiver Mitchell Picton of Regina, Saskatchewan and British Columbia Lions wide receiver Jevon Cottoy of Calgary, Alberta.
On  Thursday, Mitchell Picton had a four-yard touchdown catch from quarterback Trevor Harris with one minute and six seconds left in a 12-11 Roughriders win over the Edmonton Elks. At the time, Picton's touchdown tied the game at 11. Picton had four catches for 76 receiving yards in the contest. It was Picton's first four catches of the 2023 CFL season. With the win, the Roughriders improved to a record of three wins and one loss, and are in third place in the West Division. In Picton's career, he has 47 catches for 513 receiving yards and four touchdowns in 27 games with the Roughriders since 2019.
On Sunday, Cotton had a 20-yard touchdown pass catch from quarterback Vernon Adams at 4:40 of the third quarter in a 35-19 Lions win over the Montreal Alouettes. At the time of the touchdown, the Lions had a 31-13 lead. Cottoy had four catches for 55 yards in the game. On the season, he has 15 catches for 185 yards and one touchdown in five games. With the win, the Lions improved to a record of four wins and one loss, and are in first place in the West Division. In Cotton's career, he has 142 catches for 1641 receiving yards and eight touchdowns in 53 games with the Lions since 2019.
Meanwhile, two Canadians got traded in the Canadian Football League this past week. On Tuesday, the Elks traded linebacker Kevin Francis of Toronto, Ontario to the Ottawa Redblacks for a fourth round draft pick in the 2024 Canadian Football League Draft. Francis is returning to the Redblacks as he played there during the 2019 CFL season. He also played with the Roughriders from 2016 to 2018, and with the Lions in 2022. Francis has 18 tackles in 82 games.
Then on Saturday, the Toronto Argonauts traded defensive lineman Sam Acheampong of Brampton, Ontario to the Elks for the negotiating rights of wide receiver Xavier Gipson and a fifth round pick in the 2024 CFL Draft. Acheampong has 33 tackles and three sacks with the Argonauts over the last three seasons. He was on the Argonauts team that won the 2022 Grey Cup.
In other CFL news, Redblacks quarterback Jeremiah Masoli ruptured his left Achilles tendon on Saturday in a 21-13 Ottawa loss to the Hamilton Tiger-Cats. He will be out for the rest of the 2023 CFL regular season.