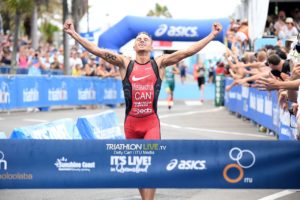 Tyler Mislawchuk of Winnipeg, Manitoba won his first World Cup men's triathlon competition on Saturday in Mooloolaba, Australia.The win is significant for Mislawchuk because it comes a year and a half away from the 2020 Olympic Games in Tokyo.
Mislawchuk posted a winning time of 52 minutes and 14 seconds. Brandon Copeland of Australia won the silver medal with a time of 52 minutes and 19 seconds. Valentin Wernz of Germany won the bronze medal with a time of 52 minutes and 22 seconds.
Mislawchuk reached the podium by 12 seconds. Tony Smoragiwicz of the United States finished in fourth place with a time of 52 minutes and 26 seconds.
In the water, Mislawchuk got off to a fantastic start. He posted the best swim time of seven minutes and 34 seconds. Mislawchuk then had a time of 28 minutes and 32 seconds while cycling, but then had an excellent run of 14 minutes and 47 seconds, which was the fastest in the competition. At the present time it seems Mislawchuk's strengths are swimming and running, but needs some improvement in the cycling portion of the triathlon to be considered among the world's best in the sport.
Mislawchuk is currently 11th in the world with 3745.73 points. The number one ranked triathlon in the world is Mario Mola of Spain with 7465.17 points.