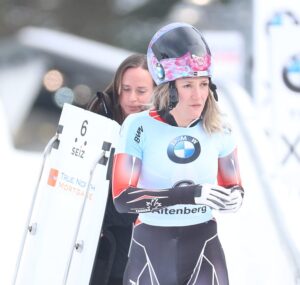 Mirela Rahneva of Ottawa, Ontario won a bronze medal in the Women's World Cup skeleton event in Yanqing, China on Friday. Rahneva posted a time of 2:03.99 for her 14th World Cup medal over her career.
Tina Hermann of Germany won the gold medal with a time of 2:03.81. Dan Zhao of China won the silver medal with a time of 2:03.83. Rahneva reached the podium by three tenths of a second. Susanne Kreher of Germany finished in fourth place with a time of 2:04.29. The bronze medal will give Rahneva confidence as she prepares for the 2026 Olympic Winter Games in Milan/Cortina d'Ampezzo. 
This was the first World Cup women's skeleton event of the 2023-24 season. There will be no event in Canada this season, with the only North American stop taking place in Lake Placid, New York on March 21. Winterberg, Germany hosts the World Skeleton Championships from February 22-24.
In other women's skeleton news, Hallie Clarke of Belleville, Ontario has made women's skeleton headlines in the last couple of weeks as it has been announced the 19-year-old has decided to join the Canadian skeleton after a year competing for the United States according to Paula Nichols of olympic.ca. While as an American, she won silver medals last year in Whistler and Innsbruck.