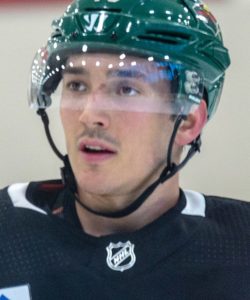 According to Rogers Sportsnet on Sunday, the Minnesota Wild have named defenseman Jared Spurgeon of Edmonton, Alberta their second full-time captain in the history of the franchise. He follows Mikko Koivu, who had been the Wild captain since 2009. However, Koivu left the Wild for the Columbus Blue Jackets in free agency, where he signed a one-year contract worth $1.5 million on October 10. Prior to Koivu being the Wild captain, the Wild had rotating monthly captains from 2000 to 2009.
Spurgeon is now the first full-time Canadian captain in the history of the Wild organization. He is entering his 11th season on the Minnesota blueline, after playing each season with the Wild since 2010-11. This past season, in 2019-20, Spurgeon had 12 goals and 20 assists for 32 points, and was a -1. He also had 18 penalty minutes, 13 power-play points, two game-winning goals, 112 shots on goal, 102 blocked shots, 61 hits, 10 takeaways, and 23 giveaways.
In 2019-20, Spurgeon's game-winning goals came against the Dallas Stars and his hometown team, the Edmonton Oilers. On January 18, 2020, he scored the opening goal from Mats Zuccarello and Ryan Suter in a 7-0 Minnesota win. Then on February 21, Spurgeon scored from Ryan Suter and Zach Parise in a 5-3 Minnesota win. In the same game against the Oilers, Spurgeon also had his first career hat trick.