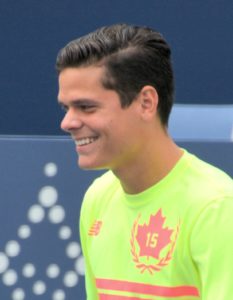 Milos Raonic of Thornhill, Ontario, is in the final four of the 2020 Western & Southern Open from New York City, New York. On Wednesday, Raonic defeated Filip Krajinovic of Serbia, 4-6, 7-6, 7-5, in a tight three-set match, which saw Raonic break Krajinovic when he was serving for the match in the second set, and break Krajinovic again in the 11th game of the third set.
Raonic's serve was once again flawless, as he had 24 aces, compared to Krajinovic's five. This was the first meeting ever between the 30th ranked Raonic and the 32nd ranked Krajinovic.
Raonic will now face Stefanos Tsitsipas of Greece in the semifinal on Friday. This will be their second career meeting head-to-head. In the second round of the 2020 Australian Open in Melbourne, Raonic had no problems whatsoever with the fourth-ranked player in the world, as he won in straight sets 7-5, 6-4, 7-6. The other semifinal will have Novak Djokovic of Serbia against Roberto Bautista-Agut of Spain.
This is the 10th time in Raonic's career he has reached the semifinals of an ATP Masters Series event. He previously reached the final four of the Western & Southern Open when the tournament was in Cincinnati in 2014 and 2016. The tournament is in New York this week, so travel was limited with the U.S. Open beginning on Monday.