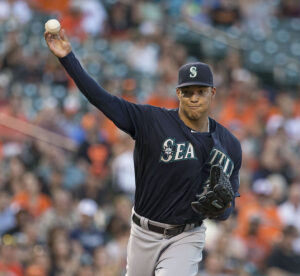 The Toronto Blue Jays tried to improve their starting rotation on Thursday, with the recent injuries to Nate Pearson, Matt Shoemaker, and Trent Thornton, who are on the injury list with elbow and shoulder ailments. According to Steve Adams of mlbtraderumours.com, the Blue Jays acquired starting pitcher Taijuan Walker of Shreveport, Louisiana from the Seattle Mariners for a player to be named later.
Walker now joins his third Major League Baseball team. In addition to the Mariners, where he has played for two different times and five seasons overall, Walker has played three seasons for the Arizona Diamondbacks.
In 2020, Walker had a record of two wins, two losses, an earned run average of 4.00, and a WHIP (walks and hits per innings pitched) of 1.07. In 27 innings pitched, Walker has given up 21 hits, 12 earned runs and eight walks, along with 25 strikeouts.
Since his rookie season with the Mariners in 2013, the fact that Walker has thrown 32 more innings pitched than his hits allowed totals is impressive. He has had 555 1/3 innings pitched and given up 519 hits.
The fact that the Blue Jays are in a bit of a buying mode at the moment should excite Canadian baseball fans. With a record of 15 wins and 14 losses, they have the eighth and final playoff spot in the American League. Toronto currently leads the Baltimore Orioles, its nearest competitor by one game and a half.