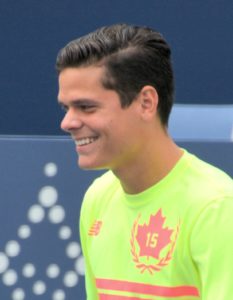 Milos Raonic of Thornhill, Ontario is the last Canadian singles player left at the 2020 Australian Open in Melbourne. In fact, he was the only Canadian to win a singles match in the year's first major.
Raonic, who is the 32nd seed, is in the third round, where he will be facing the sixth ranked Stefanos Tsitsipas of Greece. Raonic beat Lorenzo Giustino of Italy 6-2, 6-1, 6-3 in the first round on Monday and then Cristian Garin of Chile 6-3, 6-4, 6-2 in the second round on Wednesday.
In Raonic's win over Giustino, the Canadian was facing a lucky loser as Radu Albot of Moldova pulled out because of an injury. Raonic had nine aces and 40 winners.
In Raonic's win over Garin, Raonic serve was working even better. He had 19 aces, compared to Garin's two and had 35 winners compared to Garin's 12.
This will be the first time Raonic will be facing the rising Greek star Tsitsipas. The 21 year-old reached the semifinals of the 2019 Australian Open before losing 6-2, 6-4, 6-0 to Rafael Nadal of Spain.
Tsitsipas may have a slight advantage against Raonic when it comes to rest. Tsitsipas did not have to play his second round match on Wednesday because Philipp Kohlschreiber of Germany needed to withdraw because of a muscle strain.