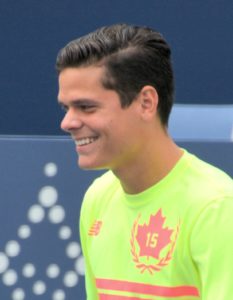 Milos Raonic of Thornhill, Ontario is in the quarterfinals of the 2020 Australian Open in Melbourne, Australia. On Saturday, Raonic defeated Marin Cilic of Croatia 6-4, 6-3, 7-5 in the fourth round of the Australian Open.
Raonic, who is the 32nd seed, defeated Cilic, who is 39th in the world. Cilic was unranked, but was a formidable opponent as he won the 2014 United States Open.
Raonic has not dropped a set in his first four matches and has not yet been broken. He defeated Cilic on Saturday at the Margaret Court Arena in two hours and 19 minutes.
One major reason why Raonic beat Cilic easily came down to aces. Raonic had 35 aces compared to Cilic's five. Raonic also had 55 winners compared to Cilic's 29.
The 2020 Australian Open started to be a disaster for Canadian tennis as Vasek Pospisil, Denis Shapovalov and Felix Auger-Aliassime were all eliminated after the first round. However by advancing to the quarterfinals, Raonic has delivered in a big way. He may not rise far in the ATP rankings, but will not drop in his rankings either. Raonic had a lot points to defend at the 2020 Australian Open because he reached the 2019 Australian Open quarterfinals.
In the quarterfinals on Tuesday, Raonic will be up against a fantastic opponent. It will be Novak Djokovic of Serbia, the seven time Australian Open champion. In nine previous meetings, Djokovic has won each time.