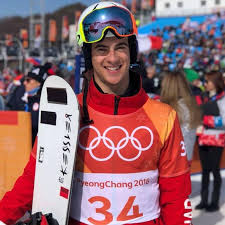 Eliot Grondin of Ste-Marie, Quebec won his first ever World Cup snowboarding medal on Saturday. Grondin placed second at a World Cup snowboard cross competition in Big White, British Columbia.
Grondin and Kevin Hill of Chilliwack, British Columbia were both in the seventh of eight elimination heats. Grondin placed first and Hill placed second, and each advanced to the fourth quarterfinal heat. In the elimination heat, Grondin and Hill eliminated Mick Doerdoff of the United States and Paul Berg of Germany.
In the fourth quarterfinal heat, Grondin and Hill once again were first and second respectively. This time they eliminated Merlin Surget of France and David Pickl of Austria.
In the second semifinal, Grondin won the heat, with Hill finishing third. In the big final, Grondin won the silver medal. Omar Visintin of Italy won the gold medal and Alex Diebold of the United States won the bronze medal.
This was the third World Cup snowboard cross event of the 2019-20 season. In another snowboard cross World Cup, Lorenzo Sommariva of Italy won in Big White on Sunday for his second World Cup victory of the season. Jakob Dusek of Austria won silver and Senna Leith of the United States won bronze. Sommariva won a World Cup earlier this season in Cervinia, Italy on December 21.
Grondin is third in the World Cup snowboard cross standings with 1940 points. Sommariva leads with 2500 points and Alessandro Haemmerle of Austria is second with 2160 points. The silver medal for Grondin will give him confidence as he prepares for the 2022 Olympic Winter Games in Beijing.