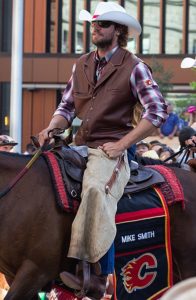 Canadian Olympic gold medalist Mike Smith of Kingston, Ontario recorded his 40th National Hockey League career shutout on Thursday. Smith backstopped the Edmonton Oilers to an impressive 3-0 win over the Montreal Canadiens. He became the 45th goaltender in NHL history to record a minimum of 40 shutouts in a career.
Smith made 11 saves in the first period, 13 saves in the second period, and 14 saves in the third period. Joel Edmundson of Brandon, Manitoba led the Canadiens in shots on goal with six. Offensively for the Oilers against the Canadiens, Edmonton got goals from Tyson Barrie of Victoria, British Columbia, Darnell Nurse of Hamilton, Ontario, and Jujhar Khaira of Surrey, British Columbia.
Smith, who won the gold medal for Canada at the 2014 Olympic Winter Games in Sochi, missed the start of the National Hockey League season with an injury. In the last week, he not only blanked the Canadiens, but also beat the Ottawa Senators 3-1 in his 2020-21 season debut on Monday. For the season, Smith has a fantastic goals against average of 0.50, and a save percentage of .985. At the age of 38, the performance of Smith so far has been stunning, when you take into account how poorly he was in game one of the Stanley Cup Playoff qualifying round for the Oilers against the Chicago Blackhawks back in August.
With the win, the Oilers are in a second place tie with the Canadiens in the North Division. Both teams have 18 points.