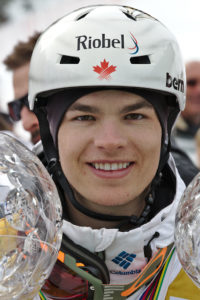 According to CBC Sports on Saturday, Canadian Olympic gold medalist Mikael Kingsbury of Deux-Montagnes, Quebec, continued his marvelous men's moguls career with a World Cup win in Ruka, Finland. For Kingsbury it was his 66th career win, which is the most of all-time. Edgar Grospiron of France is second all-time with 28 wins.
Kingsbury posted a score in Saturday's final of 82.99 points. Pavel Kolmakov of Kazakhstan won the silver medal with a score of 82.1 points. Ikuma Horishima of Japan won the bronze medal with 81.12 points. Kingsbury, who won the gold medal in the men's moguls at the 2018 Olympic Winter Games in Pyeongchang, reached the podium in Ruka by 2.16 points over Jimi Salonen of Finland, who was in fourth place with 80.83 points.
What was impressive about Kingsbury's World Cup win on Saturday was the fact he did not compete last in the second final. In the qualification for the final, Kingsbury only had the fourth best score of 78.46 points. He was behind Horishima, Kolmakov and Salonen. That meant Kingsbury was the third of six mogulists to go down the hill when the medals were being decided. With the win in Ruka, it will give Kingsbury confidence as he prepares for the 2022 Olympic Winter Games in Beijing.