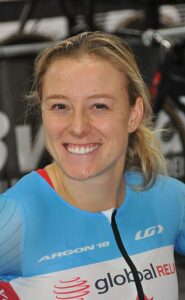 Canadian Olympic gold medalist Kelsey Mitchell of Brandon, Manitoba won two medals this past weekend at the 2021 International Cycling Union (UCI) Track Champions League. She finished second in the individual sprint and keirin races.
Mitchell placed behind Emma Hinze of Germany in the sprint and Elena Starikova of Ukraine in the keirin. Lea Friedrich of Germany won the bronze in the sprint and Martha Bayona of Colombia won bronze in the keirin.
This was the first ever UCI Track Champions League, and Mitchell finished third overall in the final sprint standings with 102 points. Hinze led with 128 points and Friedrich was second with 118 points. In the eight events that made up the Track Champions League, Mitchell reached the podium in three other events. She placed first in the keirin and third in the sprint in Palma de Mallorca, Spain on November 6, and third in the keirin in Panevezys, Lithuania on November 27. Mitchell won the gold medal for Canada in women's sprint at the 2020 Olympic Games in Tokyo in 2021.
Meanwhile, one other Canadian reached the podium in Track Champions League action in London. Maggie Coles-Lyster of Maple Ridge, British Columbia placed third in the scratch on Saturday behind gold medalist Yumi Kajihara of Japan and silver medalist Katie Archibald of Great Britain.