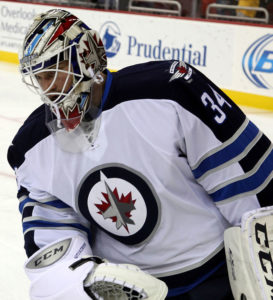 Michael Hutchinson of Barrie, Ontario recorded a shutout in only his second game as a goaltender with the Toronto Maple Leafs on Saturday. He made 28 saves as the Toronto Maple Leafs defeated the Vancouver Canucks 5-0 at the Scotiabank Arena in Toronto, Ontario.
Hutchinson made 11 saves in the first period, eight saves in the second period and nine saves in the third period. It was Hutchinson's fourth career shutout as his other three career shutouts came with the Winnipeg Jets.
In the Maple Leafs' win over the Canucks, Canadian Olympic gold medalist John Tavares of Mississauga, Ontario scored the game winning goal for the Maple Leafs at 8:54 of the first period from Morgan Reilly of Vancouver, British Columbia and Connor Brown of Toronto, Ontario. For Tavares it was his 27th goal of the season, the third most in the National Hockey League. Tavares only trails Alexander Ovechkin of the Washington Capitals, who has 30 goals, and Jeff Skinner of Toronto, Ontario, who has 28 goals while playing this season for the Buffalo Sabres. Tavares won his gold medal for Canada in men's hockey at the 2014 Olympic Winter Games in Sochi. 
Hutchinson was traded from the Florida Panthers to the Toronto Maple Leafs on December 29 for a fifth round draft pick in the 2020 National Hockey League Entry Draft. In six games with the Panthers and Maple Leafs in 2018-19, he has a record of two regulation wins, two losses and two losses in extra time, one shutout, a goals against average of 3.39 and a save percentage of .879.