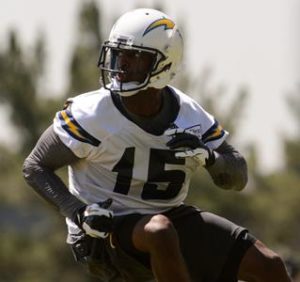 Former Toronto Argonauts wide receiver Dontrelle Inman made a significant contribution to the Indianapolis Colts in their AFC Wildcard playoff win over the Houston Texans on Saturday. Inman had four catches for 53 yards and a touchdown, as the Colts beat the Texans 21-7.
Inman's touchdown catch was for 18 yards at 6:24 of the third quarter. The major score put the Colts up 21-0 at the time.
Inman played for the Argonauts in 2012 and 2013. In two seasons, he caught 100 passes for 1542 yards and 11 touchdowns. Inman had 50 catches in each season and had 803 yards in 2012 and 739 yards in 2013. He had five touchdown catches in 2012 and six touchdown catches in 2013. During the 2012 CFL season, Inman won a Grey Cup with Toronto as the Argonauts beat the Stampeders 35-22.
The Colts are Inman's third team in the CFL. He has previously played four seasons with the Chargers organization and eight games with the Chicago Bears.
This past week, five notable Canadian Football League players from this past season have signed with NFL teams. Canadian Alex Singleton, whose mother was from Toronto, Ontario, signed with the Philadelphia Eagles from the Calgary Stampeders.  Singleton, a linebacker, was the CFL's most outstanding defensive player in 2017. Singleton's Stampeders defensive teammate Jameer Thurman, also a linebacker, signed with the Chicago Bears.
Meanwhile, two of the CFL's best wide receivers from 2018 have signed south of the border. D'haquille Williams has joined the Buffalo Bills from the Edmonton Eskimos and Diontae Spencer has joined the Pittsburgh Steelers from the Ottawa Redblacks. The other key signing was Ty Long who is now with the Los Angeles Chargers after kicking this past year with the British Columbia Lions.