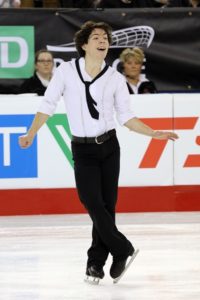 Keegan Messing of Sherwood Park, Alberta has qualified for the men's figure skating competition at the 2018 International Skating Union Grand Prix Final in Vancouver, British Columbia after two-time Olympic champion Yuzuru Hanyu of Japan had to pull out because of an ankle injury on Thursday. He will be the only Canadian figure skater competing in the competition.
Messing joins a men's field that includes Shoma Uno of Japan, Nathan Chen of the United States, Michal Brezina of the Czech Republic, Sergei Voronov of Russia and Cha Jun-Hwan of South Korea. Messing had one podium finish during he 2018 Grand Prix circuit. It was a silver medal performance at the 2018 Skate Canada in Laval, Quebec.
The reason why Hanyu is not competing in Vancouver is because he twisted his ankle during practice. Hanyu's coach is two-time Canadian Olympic silver medalist Brian Orser of Belleville, Ontario. This is the second straight year that Hanyu had to pull out of the Grand Prix Final because of an ankle injury. Hanyu won the gold medal for Japan in men's singles at the 2014 Olympic Winter Games in Sochi and the 2018 Olympic Winter Games in Pyeongchang. Orser won the silver medal for Canada at the 1984 Olympic Winter Games in Sarajevo and the 1988 Olympic Winter Games in Calgary. 
This will be the fourth time that Canada is hosting the Grand Prix Final. Hamilton, Ontario hosted in 1996, Kitchener, Ontario hosted in 2001 and Quebec City, Quebec hosted in 2011. The Grand Prix Final is a competition where the top six figure skaters from each discipline of the Grand Prix circuit compete against each other.