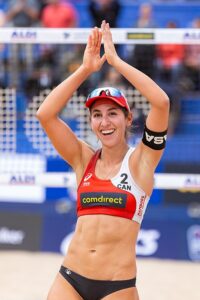 Melissa Humana-Paredes of Toronto, Ontario, and Sarah Pavan of Kitchener, Ontario, are heading into the 2020 Olympic Games in Tokyo in 2021 as a medalist in their final event before the biggest tournament together in their sporting careers. On Sunday, Humana-Paredes and Pavan finished third by beating Tina Graudina and Anastasija Kravcenkova of Latvia 21-13, 13-21, 17-15 in the bronze medal game of the Beach Volleyball World Tour event in Gstaad, Switzerland.
It was an all-Brazilian final as Agatha and Duda defeated Rebecca and Ana Patricia 23-21, 21-18.  Humana-Paredes and Pavan lost to Agatha and Duda in the semifinals.
The Canadians got off to a rough start in Switzerland, as they lost their opening round match to Daniela Alvarez and Angela Lobato of Spain. Humana-Paredes and Pavan then qualified for the playoffs by beating Raisa Schoon and Katja Stam of the Netherlands, 13-21, 21-18, 15-11. Then they beat Chantal Laboureur and Cinja Tillmann of Germany, 21-18, 21-17 in the first round of the playoffs, Margareta Kozuch and Laura Ludwig of Germany 21-14, 22-20 in the second round of the playoffs, and then Barbara and Carol of Brazil, 25-23, 25-23 in the quarterfinals.
Humana-Paredes enter the Olympic Games in Tokyo as the reigning world champions from 2019 in Hamburg. They will be in Pool A alongside Stam and Schoon, Anouk Verge-Depre and Joana Heidrich of Switzerland, and Julia Sude and Karla Borger of Germany.