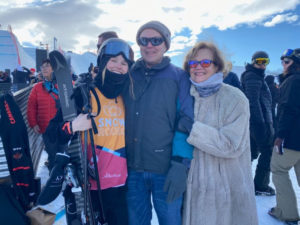 Megan Oldham of Parry Sound, Ontario won the bronze medal in a Women's World Cup slopestyle skiing competition at Canada Olympic Park in Calgary, Alberta on Saturday. This was Oldham's fourth career World Cup medal.
In Calgary, Oldham posted a third place score of 80.7 points. Ailing Eileen Gu of China won the gold medal with 89.13 points. Mathilde Gremaud of Switzerland won the silver medal with 87.13 points. Oldham reached the podium by 0.98 points over Johanne Killi of Norway, who had a fourth place score of 79.78 points.
This was Oldham's first World Cup podium finish this season. She previously won the silver medal in Seiser Alm, Italy on January 27, 2019, a bronze medal in Mammoth Mountain, California on March 10, 2019 and a gold medal in Silvaplana, Switzerland on March 30, 2019.
Oldham is in 14th place in the World Cup women's slopestyle skiing standings with 92 points. Sarah Hoefflin of Switzerland is the leader with 192 points.
There is one more women's slopestyle skiing World Cup left this season. That will take place in Silvaplana, Switzerland on March 21. The bronze medal for Oldham will give her confidence as she prepares for the 2022 Olympic Winter Games in Beijing. At 18 years of age, Oldham was the 2018-19 Crystal Globe champion in women's slopestyle skiing.